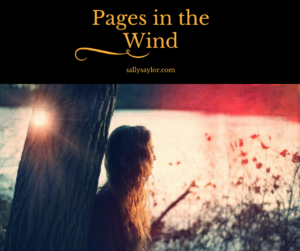 We all need a place to feel safe. For most of us, it's our home. After a lousy day at work or a dismal day at school, home is a beacon. But what if home doesn't offer safety? In this passage from Pages in the Wind, eight-year old Emily, talks about her safe place - Grandma's house:
The faint glow of the late afternoon sun touched my face as I jumped out of the car. Birch trees quivered in the breeze, and the scent of damp pine needles and cedar reminded me of Christmas. The fruit groves, giant evergreens, and fields of wild clovers and moss surrounded the old wood and stone craftsman home like an enchanted forest. I gushed with giggles and short squeals knowing the day had finally arrived. I couldn't wait to spend a month with Grandma.
Unfortunately for little Emily, her safe place only lasts a month. In this scene, she prepares to say goodbye to Grandma, and return to San Francisco with her parents:
Early the next morning, the family gathered at the front door saying their goodbyes. I stood back, dabbing my eyes.
Grandma sat eye-level with me. "My precious bébé. We'll be together soon. Next time I will teach you to make crepe cakes."
My chest heaved as I caught each whimper and reined them back to talk to her. I gazed into her soft blue eyes, already thinking about next August. She had no idea why going home was killing me—I didn't even know. "I'll write you every day, Grandma. My hand never gets tired. I'll draw you beautiful pictures too." I grabbed her hand, wondering if it was too late to squeeze it twice.
Father pushed me aside. "That's enough. Leave your grandma alone."